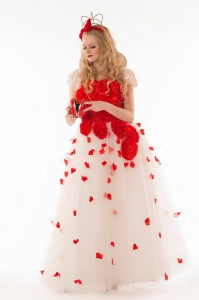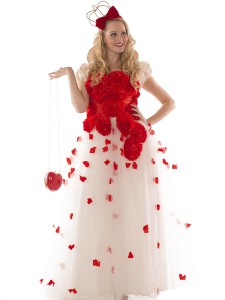 Ever After High is a boarding school located in the Fairy Tale World. It is attended by the teenage children of fairy tale characters, destined to follow in their parents' footsteps and keep their stories alive throughout the generations. Royal leader Apple White is the daughter of Snow White.
A Living Fairytale's Apple White Princess is positively charming in her floor-length gown with red and white details fitting for any epic occasion. Apple White Princess is sure to be a hit for your young Ever After High fan in her hexquisite fashions and make your event one to remember!
Cannot find required Table
Package Options
Storytelling
an interactive play performed by the princess.
Tiara Craft
a foam shaped crown art activity.
Necklace Beading
beads and lace to make their own necklace design.
Make up and Face Glitter
eye shadow, glitter, blush, lip gloss, with gems to finish the look.
Manicures
a file, buff, and polish (clear with sparkles) along with a mini hand dryer to set.
Temporary Tattoos
a wide variety of girl and boy tattoos.
Tea Party
great photo opportunity where the children get to mingle with the princess and drink "tea" (tea and/or lunch provided by host).
Princess Games
traditional low organized games with a princess theme (ex. musical mats).
Show and Tell
Ariel sea treasures (ex. coral, seashells, and dinglehoppers, etc.).
Cupcake Decorating
cupcakes, icing, candy, and spoons are provided to design their own treat.
Photo Opportunity
create your own background and capture that special moment to share.
Singing
familiar nursery songs with a princess twist.
Singing and Dancing
a princess with boom-box in hand brings royal and dance.
Lesson
guests learn to curtsey, wave, and smile like a princess.
Royal Coronation
the royal proclamation will be read and the birthday girl will be crowned.
Happy Birthday Song
presentation of the cake and the song for the birthday girl and option to have birthday cake along with her favorite character.
Gift Opening
The princess sits with the birthday child while she opens her gifts.
Treasure Hunt
the princess has the parent hide the clues and the children choose a treasure from the box at the end of the adventure.
Bubble Party
each child receives their own wand they keep as we dance along with the music.
Icicle Craft
beads used on a pipe cleaner with ribbon to create a special icicle decoration.
Face Painting
a swirl of colors to complete a special piece of art on the children's faces.
Marshmallow Olaf
pretzels, and candy corn used to create their own Olaf decoration.